The Value of Socket Strips
Posted on 12/22/20 7:57 AM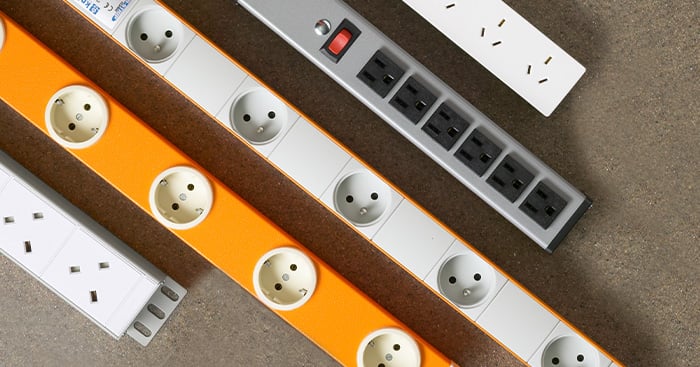 A socket strip is a stand-alone electrical product containing several power sources (sockets) to provide equipment electrical connectivity by way of a country-specific AC input cord. Socket strips allow one or several machines to receive power in one or multiple strips.
A socket strip distributes electrical power through conductors of ultrasonically welded copper wires (in various gauges) housed in a plastic or metal "can" by way of flexible cable, which is plugged into a wall socket connected to a country's mains power. Socket strips may contain several components including, but not limited to, crimped terminals, quick-disconnect terminals, circuit breakers, fuses, switches, rocker switches, sockets of folded conductive metal inserted into thermoplastic with plastic faceplates, screws, and rings.
Socket strips are referred to by a variety of names. UL 1363 refers to them as a "relocatable power tap" (RPT). Other names include power strips, power bars (Canada), power distribution units, and power boards (Australia). Despite its varying nomenclature, a socket strip provides multiple sockets to power equipment; most socket strips protect equipment when drawing more power than the equipment was originally designed to handle.
"Overcurrent protection is a key function of a socket strip," said Dan Ford, Technical Support Specialist at Interpower. "It can take the form of supplementary circuit protection such as a circuit breaker for equipment commonly referred to as 'CBE.' The CBE may be the only circuit protection, or it can work in conjunction with a switch. By having overcurrent protection built into the socket strip, the end user and the equipment are protected from electrical shock and mechanical damage, and reducing the risk of fire.
"However," Ford added, "while it's important to remember that circuit protection does protect end users and machinery from overcurrent, it does not protect them from extreme surges such as lighting strikes."
Country-Specific Socket Strips
Due to country-specific safety standard ratings, North American and international socket strips vary in construction material, power ratings, number of sockets, and the type of overcurrent protection used. Interpower offers socket strips for many plug patterns spanning many continents and countries: Australia, Continental Europe, France, Belgium, North America, and the United Kingdom, for example.
Australian socket strips come with circuit breaker protection (6 sockets), and Continental Europe strips offer circuit breaker protection or a rocker switch in 4, 5, 8, 9, 12, and 13-socket configurations. UK socket strips are protected by fuses in the 4-socket strip as well as a 5-socket strip without fuses. The France-Belgium socket strip contains 5 French sockets. Please see the table below for further details on these socket strips
The NEMA 5-15 socket strip, for example, is rated at 125 volts and 15 amps. For overcurrent protection, customers can choose between a CBE and rocker switch, a CBE and lighted rocker switch, lighted switch, or a rocker switch. Interpower can also customize socket strips for customers who need specialized applications.
Ratings and Standards
When designing a socket strip, another critical factor is determining what the voltage and amperage ratings needs to be based on the application and the country-specific product safety standards.
"It is important to realize that a rating on a socket strip covers the whole socket strip, not just individual components," Ford said. An example is the Continental European five-position socket strip. Even though each socket, plug, and cable are rated at 16A/250VAC, the socket strip cannot have an overall rating higher than 16A/250VAC.
The country-specific socket strips typically have approval on the unit given by the product safety agencies from the countries in which the units will be used. Because there are different standards for each country, the application and approvals provided may differ. There is not one standard governing the design of socket strips.
Because there is no single standard governing the design of socket strips, it is important to know the requirements for the country of export. Many safety agencies have requirements regarding socket strips that include circuit protection. For example, the United Kingdom uses fuses rather than circuit breakers. In Canada, a circuit breaker is required for any strip over two socket positions. Part of the focus at Interpower is to make it easy to design, build, and maintain products for global markets.
Table and Rack Mounts
Rack-Mount
A table-mount is where socket strip is mounted to the work surface. It might be a tabletop, underside of a tabletop, wall or cabinet surface. The mounting style places the bottom of the socket strip flush with the mounting surface. This may occur through mounting tabs on the end, mounting holes on the back, or mounting brackets.
Rack-Mount
This places the mounting tabs in a position to be flush or even with the top (face) of the socket strip. This places the backside or bulk of the socket strip to the rear of the rack or under the table in which it is mounted.
For more information, see Interpower's product line of country-specific socket strips.
Summary of the Different Country-Specific Socket Strips Sold by Interpower
Style
Feature(s)
Number of Sockets
Mounting Style
Interpower Part Numbers
Australia
Circuit Breaker
6
Table
85010051
Continental Europe
—
5 or 9
Table
85023050

85023090

Continental Europe
Circuit Breaker
5
Table
85013041

Continental Europe
Rocker Switch
4, 8, or 12
Table
85003040

85003080

85003120

France/Belgium
—
5
Table
85032052

NEMA 5-15
Lighted Switch
4 or 6
Table
85010360

85010250
NEMA 5-15
Circuit Breaker, Rocker Switch
6
Panel or Wall
85010200
NEMA 5-15
Circuit Breaker, Lighted Rocker Switch
6
Rack
85010221
NEMA 6-15
Rocker Switch
4
Table with Clips
85010231
United Kingdom
—
4
Table
85010322
United Kingdom
—
5
Table
85031054
Topics: product design, modules, designing for export