Testing New Product Designs for Global Markets
Posted on 8/28/18 8:58 AM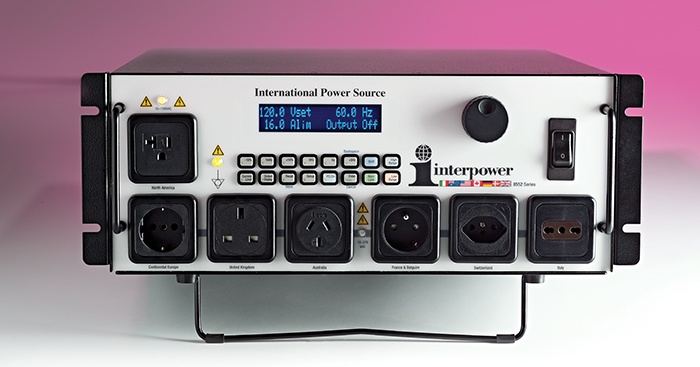 Designing, building, and maintaining products for global markets can be beneficial for a company. It is critical, however, during the design and build phases, for testing to be performed in order to know if the product will function properly in the country it is intended to be used in.
Importance of Product Testing
With numerous plug patterns used throughout the world, engineers and designers need to verify that equipment and consumer electrical products will work safety and reliably on specific voltages and frequencies—before exporting. This makes product testing essential throughout the product development process. Using an AC power source is one way to test that product at various voltages and frequencies.
By including a number of different kinds of tests during the design phase, it can help to ensure the product will perform correctly and may help to prevent potentially expensive modifications after the end product is in production. A product will not operate at its full potential if an incorrect voltage or frequency is used. Testing with an AC power source allows for simulation of field conditions.
Product Testing with an AC Power Source
Interpower offers an AC power source that can provide testing in the lab and can assist companies wanting to export with the International Power Source (IPS). "The IPS provides a clean, convenient source of AC power for product design and product testing at various voltages and frequencies found around the world," said Ron Barnett, Product Development Manager at Interpower. "The IPS has seven of the most common country-specific sockets. This allows equipment to be tested to use the proper plug."
If a company has a development work area or lab where prototypes are built, the IPS can be beneficial as it could be used in situations where various power sources might be needed. To assist with product testing, the IPS Interface Software is available as an additional feature to use with the IPS. It is a computer graphical user interface software which is available for the creation of AC power test routines, graphic AC power tests, and fast testing at AC world voltages and frequencies.
"The IPS Interface Software extends the capabilities of the IPS by letting the user create programmable routines. With the software, you can create easy step-by-step programmable routines with the ability to save, store, recall, and reuse them," Ron explained. "For example: if you need to test a product for 24 hours, you can program the IPS to perform a certain test for the first five hours, then a different test the next five hours, and so on. The different tests can total up to 24 hours. The testing order can be saved and repeated."
Some of the Functions of the Software Include:
Graphical user interface computer control of the IPS
Programmable routines for repeat equipment testing
Fast look-up and selection of worldwide plugs, sockets, voltages, and frequencies
Graphical reporting of all IPS outputs during equipment testing
IPS interface software simulation mode for evaluation, demonstrations, training purposes, and for creation of routines on other computers, if the main computer and IPS are in testing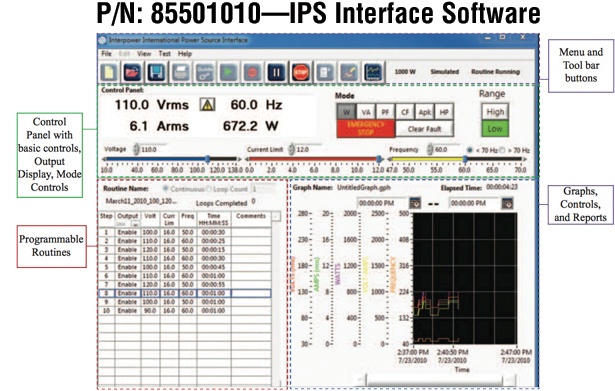 Who Can Benefit From Using an International Power Source?
Consider These Questions:
Does your company manufacture, export, or test AC-powered electronic or electrical equipment?
Where does your company export to?
What power (voltage/current) rating is the equipment?
What phase is the equipment? (Note: the Interpower IPS can only test single-phase.)
Additional Resources
For more information on testing, see the International Power Source and the IPS Featured Product page. For an overview of the software, see the Interpower IPS Interface Software page.

Interpower offers free technical support. For further assistance, please see Interpower's contact information below.
Topics: product design, designing for export, International Power Source, AC Power Source