Strain Reliefs/Cable Glands: Providing Protection to Power Cords
Posted on 3/4/20 2:08 PM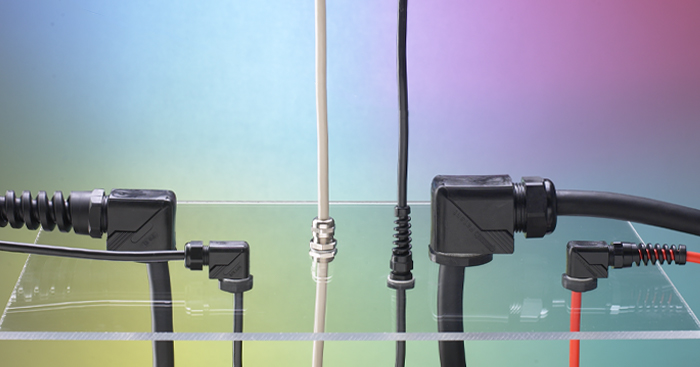 The main purpose of a "strain relief" or "cable gland" is to provide protection to a power cord. They help extend cord life and add stability to the equipment. In generic terms, it is used to secure a power supply cord to a piece of electrical equipment. The term strain relief is commonly used in North America, while cable gland is the preferred term in Europe and other continents.
Methods of Attachment
Threaded strain reliefs offered by Interpower are assembled in two different ways. Mounting threads can be threaded directly into the panel of the equipment. Or it can be eased through a clearance hole in the panel of the equipment and fitted with a locking nut. Each option requires a different size clearance hole in the equipment panel. Specifications are found by part number on the Interpower website to assist in determining the correct size of the hole.
Thread Types
Different types of mounting threads are available. Thread types include: National Pipe Thread (NPT) is the American standard; Stahlpanzerrohr-Gewinde (PG), also called Panzergewinde, the European standard which is the German military thread; and the metric standard which is generally used worldwide.
Location is a major factor in determining type, e.g., if located in North America, NPT or metric threads should be chosen. In Europe, metric is used for new equipment while PG is used for replacement parts.
Cable and Wire Size
Cable diameter determines the size of the strain relief. The outer diameter of the cable must be known in order to select the appropriate strain relief which will be listed in specification guidelines.
Body Styles
Interpower offers strain reliefs in two general configurations: dome and flex.
Dome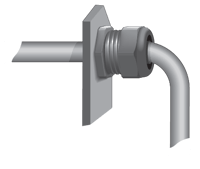 Named for its dome shape, this configuration helps secure the wire connection to the equipment. This extends cord life by preventing friction across rough surfaces and sharp edges on the equipment panel.
Flex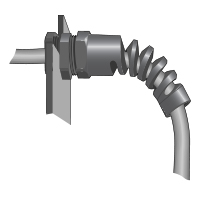 This flexible style safely bends the cord entering the equipment. It is designed to eliminate kinking at the point where the cord enters the equipment. The spiral-shaped spring wraps around the cord and adds strength where the cord is most vulnerable.
Potential Markets for Strain Reliefs
The following list includes potential markets where incorporating a strain relief can be beneficial.
Automotive
Food and beverage
Lighting
Marine
Medical
Packaging
Renewable energy
Robotics
Security
Telecommunications
Additional Resources
For more information on Interpower strain reliefs, see Strain Reliefs/Cable Glands and the Featured Product page.
Interpower offers free technical support. For further assistance, please see Interpower's contact information below.
---
Topics: electrical safety, cable glands, strain reliefs, international power components