Simplifying the Power Entry Element with a Module
Posted on 2/12/18 10:20 AM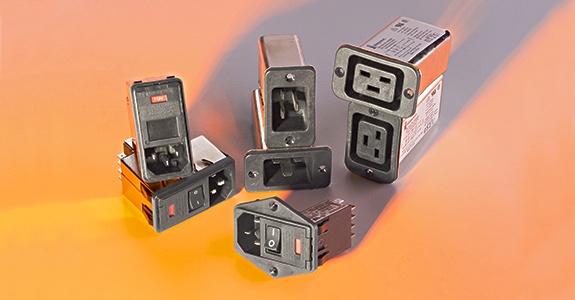 Simplifying the power entry element in an electrical or electronic product with a module can help make the assembly easier and may benefit a company in product design.
A module is a device that can combine multiple functions into a single unit to control power entry. A module with an inlet is considered a power entry module, while one with an outlet is considered an accessory power module.
Components
When selecting a module, the desired functions need to be determined. A module may have from two to five functions. These include: power inlet or outlet, circuit protection, filter, voltage selector, and/or switch.
Benefits
There are several reasons to choose a module over individual components. The IEC 60320 inlet is the most common means of connecting a detachable cable assembly to equipment. Once the cable assembly is connected, other components are necessary to control the electrical power to protect the equipment and the user. These components can create clutter on the equipment and a wiring problem on the inside. To help simplify the problem, a module can include multiple power entry functions in one compact unit while providing various forms of protection and control. Modules are ideal for use in a variety of applications, including information technology and medical equipment.
Even though these functions are available as individual components, when properly specified for a particular application, the benefits of a module may include increased user safety, lowered component management and costs, reduced assembly labor, and saved panel space.
Increased User Safety
The risk of accidents may be reduced when using a module. The design of most modules makes it necessary to remove the power cord assembly from the unit prior to making any changes, like fuse replacement and/or voltage selection. Interlocking the power entry connector with access to other module functions reduces the probability of accidental shock by the user.
Lowered Component Management and Costs
While modules rarely save money when compared to direct material costs, the savings in assembly, engineering, and materials handling time may more than cover the additional costs. Decreasing the number of components used in equipment can help reduce time in testing and recording documentation for component and agency approvals. Materials, handling, and purchasing time are also reduced through reduction in inventory.
Reduced Assembly Labor
Power entry modules can reduce installation labor costs. The combination of several components into one package reduces the number of components that must be handled. Assembly labor costs may be reduced due to less internal connections that need to be made.
Saved Panel Space
Power entry modules combine several components into one panel mounting system, saving panel space. This reduces the mounting hold size, thus saving valuable space on the mounting surface.
| | |
| --- | --- |
| | |
| Interpower power entry module on equipment saves panel space | Components mounted individually on equipment panel use more panel space |
Additional Resources
See the complete line of modules available at Interpower. See also the Featured Product page in which the modules are highlighted. For more information about modules, contact Customer Service.
Interpower offers free technical support. For further assistance, please see Interpower's contact information below.
Topics: product design, modules