Simplifying the Power Entry Element into a Single Unit
Posted on 6/3/19 7:58 AM
When designing electrical products, one way to simplify the power entry element is by incorporating a module, which combines power entry functions into a single unit. Even though these functions are available as individual components, the benefits of a module include user safety, reduced individual component inventory, decreased assembly labor, and saved panel space.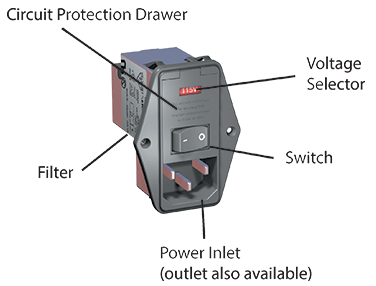 Possible combinations include: An IEC 60320 inlet or outlet, a switch, circuit protection, a filter, and a voltage selector.
Module Components
When selecting a module, the first step is to determine which functions need to be included in it. A module offered by Interpower® may have from two to five functions: an inlet, an outlet, a switch, circuit protection, a voltage selector, or a filter.
Inlet
The power inlet is responsible for bringing electricity into the unit via connection with a detachable cord set. The most common inlet is the IEC 60320 C14, although other styles of inlets are offered by some manufacturers.
Outlet
An outlet is an IEC 60320 connection device that provides access to electricity from a power source.
Switch
A switch controls electricity entering the equipment. It is used to turn the power on ("I") and off ("O") from the module to the rest of the unit.
Circuit Protection
Circuit protection takes the form of a fuse or a circuit breaker. Both provide current protection to the equipment, reducing the possibility that a short circuit can damage the equipment or harm the user.
Voltage Selector
A voltage selector allows equipment to be designed and manufactured to operate on approximately 115 or 230VAC. A voltage selector changes voltage by changing connections on the transformer. By changing the selection, this allows the user to define the correct input voltage.
Filter
Filtering provides clean electricity to the equipment. Filters remove specified frequencies that can affect equipment operation.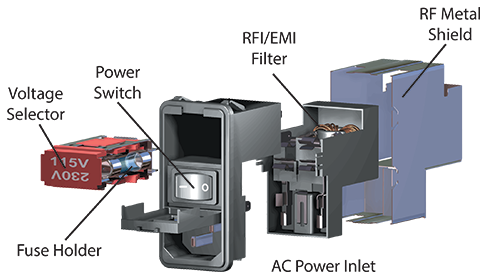 One example of a multi-function power entry module.
Additional Resources
Interpower offers modules with two to five functions, including medical modules. For additional details, see "More Information on Power Entry Modules" and the Featured Product page.
Interpower offers value-added services and free technical support. For further assistance, please see Interpower's contact information below.
Topics: product design, modules, designing for export