RoHS: The Most Misunderstood Directive on the Planet?
Posted on 7/25/22 9:16 AM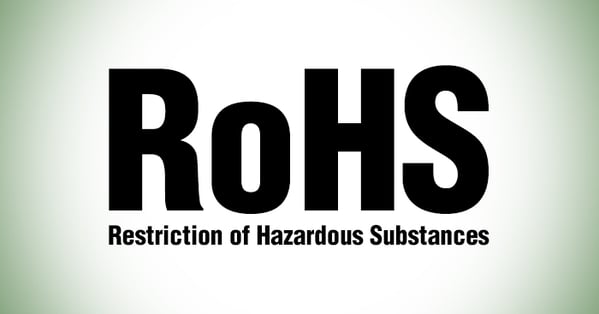 If your electrical products are manufactured for North America or any other market outside of Europe, or if you want to buy electrical products to use outside of Europe, the European RoHS Directive Does Not Apply. The Directive applies within the European market only. Which countries represent the European market?
The list:
| | | |
| --- | --- | --- |
| Austria | France | Malta |
| Belgium | Germany | Netherlands |
| Bulgaria | Greece | Poland |
| Croatia | Hungary | Portugal |
| Cyprus | Ireland | Romania |
| Czechia | Italy | Slovakia |
| Denmark | Latvia | Slovenia |
| Estonia | Lithuania | Spain |
| Finland | Luxembourg | Sweden |
The European RoHS directive 2011/65/EU became law on July 21, 2011, and took effect on January 2, 2013. The aim of the RoHS directive is to reduce the levels of hazardous substances within electronic and electrical equipment (EEE) placed within the European market.
Per the RoHS Directive 2011/65/EU
EEE placed within the European market must comply with the restricted substances listed in Annex II.
The obligations of manufacturers when placing EEE on the market must ensure that it has been designed and manufactured in accordance with the requirements set out in Article 4 of the 2011/65/EC and EU harmonized (EEE) standards.
Where compliance of EEE with applicable requirements has been demonstrated, manufacturers draw up an EU declaration of conformity and affix the CE marking on the finished product. The CE marking shall be subject to the general principles set out in regulation (EC) No. 765/2008.
The RoHS directive 2011/65/EU is not applicable to EEE used outside of the European market.
For a current and complete list of RoHS substances, see table below:
| Restricted substance Name | Maximum Concentration |
| --- | --- |
| Lead | 0.1% |
| Mercury | 0.1% |
| Cadmium | 0.01% |
| Hexavalent Chromium | 0.1% |
| Polybrominated Biphenyls (PBB) | 0.1% |
| Polybrominated Diphenyl Ethers (PBDE) | 0.1% |
| Bis(2-Ethylhexyl) Phthalate (DEHP) | 0.1% |
| Butyl Benzyl Phthalate (BBP) | 0.1% |
| Dibutyl Phthalate (DBP) | 0.1% |
| Diisobutyl Phthalate (DIBP) | 0.1% |
| | |
| --- | --- |
| | Interpower continues its commitment to safe working and environmental conditions. This includes a Certificate of Compliance and the RoHS environmental logo. |
Reference
Link to RoHS Directive: https://ec.europa.eu/environment/topics/waste-and-recycling/rohs-directive_en
Topics: designing for export, RoHS, European Union Compliance, product development