Part II RoHS: Interpower's Commitment to Compliance in Europe
Posted on 5/26/20 3:44 PM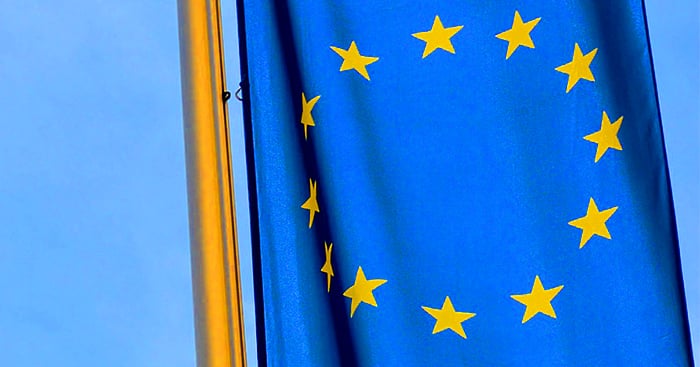 Previously we covered RoHS history and the successive directives published by the EU regarding the restrictions of the quantities of certain hazardous substances used in electrical and electronic equipment in European countries: lead (Pb), mercury (Hg), cadmium (Cd), hexavalent chromium (CrVI), polybrominated biphenyls (PBB), polybrominated diphenyl ethers (PBDE), and four different phthalates: DEHP, BBP, BBP, and DIBP.
This month's addition offers both a recap of last month as well as additional information on compliance and the hazardous chemicals.
X-ray Fluorescence Spectroscopy (XRF) was one of the first widely used methods to test for chromium, bromine, cadmium, mercury, and lead in polymeric material using x-ray spectrometry. Portable, on-site XRF analyzers come in bench-top, stand-alone, and handheld units. Testing with a handheld XRF analyzer is typically performed first, focusing on the parts of a product with the highest risk of containing restricted substances. Other RoHS testing methods used include Fourier Transform Infrared Spectroscopy (FTIR) testing and less frequent, Scanning Electron Microscope (SEM) testing. XRF analyzers can be purchased or rented—a list of vendors can be found online. Interpower uses the Niton XL3t XRF Analyzer as seen below and a description of the basic screening operation.
Niton XL3t XRF Analyzer Work Station & Niton XL3t XRF Analyzer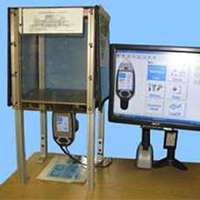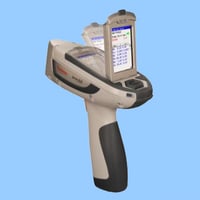 The simple screening process begins when the material is placed into the protective Analyzer work station. The operator selects the correct analytical mode for alloy or plastic. When the test is completed, one of the following results will appear: Failed (noncompliant), Inconclusive (further testing), or Pass (compliant). For "Failed" and "Inconclusive" results, a XRF screening report is generated. The report is used when notifying the supplier. The supplier will be required to provide supporting documents (i.e., test lab reports or material information) as to confirm the RoHS status determined by Analyzer work station.
Though the analyzer detects substances, it can't distinguish the type of chromium or the type of bromates, such as PBB or PBDE. This would require further analyzing if readings are too high in these areas. The analyzer cannot detect presence of DEHP, BBP, DBP, and DIBP. For these substances, Interpower's suppliers will need to provide that documented information.
The amendment 2015/863 added four phthalates to the RoHS directive 2011/65/EU. Additional testing is required to ascertain levels of these compounds, which are typically extracted with a solvent. The extraction solvent is then analyzed for the presence of phthalates using gas chromatography coupled with mass spectrometry (GC/MS), or used in conjunction with flame ionization detection (GC/FID).
| Restricted Substance Name | Maximum Concentration |
| --- | --- |
| Lead | 0.1% |
| Mercury | 0.1% |
| Cadmium | 0.01% |
| Hexavalent chromium | 0.1% |
| Polybrominated biphenyls (PBB) | 0.1% |
| Polybrominated diphenyl ethers (PBDE) | 0.1% |
| Bis(2-ethylhexyl) phthalate (DEHP) | 0.1% |
| Butyl benzyl phthalate (BBP) | 0.1% |
| Dibutyl phthalate (DBP) | 0.1% |
| Diisobutyl phthalate (DIBP) | 0.1% |
Polybrominated Biphenyls (PBB): < 1000 ppm (0.1%)
PBBs are flame retardants predominantly found in equipment such as computer monitors and TV sets. They have been found in air and dust via evaporation. Too much PBB is carcinogenic to humans and affects the endocrine system.
Polybrominated Diphenyl Ethers (PBDE): < 1000 ppm (0.1%)
See the PBB information above, as PBDE is found in nearly identical products and share very similar carcinogenic properties.
Bis (2-Ethylhexyl) phthalate (DEHP): < 1000 ppm (0.1%)
DEHPs are used to "soften" PVC and insulation sheathing electrical wires and in plastic tubes used in the medical field. The predominant use of DEHP in EEE is in flexible PVC in cables and wires. Minor uses of DEHP in ceramics for electronics or as dielectric fluids in capacitors. Human reproductive and immune systems are at risk with overexposure.
Benzyl butyl phthalate (BBP): < 1000 ppm (0.1%)
BBP is mainly used as plasticizer in PVC flooring. Also used to soften PVC and vinyl insulation on electrical wires.
Dibutyl phthalate (DBP): < 1000 ppm (0.1%)
DBPs are part of the phthalate family used to soften PVC and vinyl insulation on electrical wires.
Diisobutyl phthalate (DIBP): < 1000 ppm (0.1%)
Same characteristics as above.
Additional Resources
RoHS Directive—
http://ec.europa.eu/environment/waste/rohs_eee/legis_rohs1_en.htm
https://rohs.exemptions.oeko.info/index.php?id=127
Interpower offers a 1-Week U.S. manufacturing Lead-Time on non-stock Interpower products, Same Day Shipping on in-stock products, and no minimum order or dollar requirements. Blanket and scheduled orders along with value-added service are available. If you have questions, Interpower offers free technical support. You can check the website at www.interpower.com, e-mail sales@interpower.com (United States) or uk@interpower.com (United Kingdom) or contact Customer Service in the United States at (800) 662-2290 or in the United Kingdom at +44 (0)1908 295300.
---
Topics: product design, designing for export, RoHS, European Union Compliance