Know Global Medical Requirements and Recommendations
Posted on 11/5/18 12:51 PM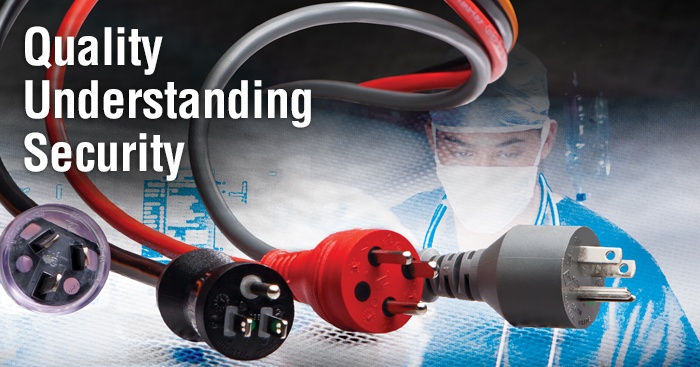 When designing, building, and maintaining hospital-grade products to be used in worldwide markets, it is important to know if there is a requirement that has to be followed specific to that country or if it is a strongly-recommended preference. Some countries have medical equipment requirements, while others have recommendations. In addition, select hospitals have requirements that they choose to follow specific to their facility. Knowing what to follow is important.
Global Requirements and Recommendations
The following briefly describes specific countries/regions who have requirements or recommendations. Several are specific to medical equipment and others also include medical components, e.g. plugs.
Australia

Medical equipment must meet AS/NZS 3200. All Australian plugs must be approved to AS/NZS 3112. In a medical application, according to AS/NZS 3200.1.0 (an Australian deviation against IEC 60601-1), a rewireable 3-pin plug has to be clear; it is optional for a molded plug to be clear.

Some hospitals in Australia prefer to use a clear, transparent plug and orange, flexible cable.

Denmark

The Danish hospital-grade plug and socket are recommended for use in medical applications and specifications per the SB 107-2-D1 standard. The socket is designed to prevent "normal equipment" from being connected and disrupting the mains circuit in specific medical settings.

For select medical facilities in Denmark, red is the preferred color for hospital-grade cord sets.

European Union

The medical equipment standard for European Union countries is EN 60601-1. Within the EU, country-specific plugs are used on medical equipment.

Japan

Cords, plugs, and sockets must carry the PSE approval mark. Hospital-grade plugs and outlet-sockets need to be approved in accordance with JIS T 1021. Each shall be indelibly marked with an "H" and for plugs, a green dot is allowed. Select hospitals have specific preferences when using hospital-grade plugs and sockets.

North America

There are specific standards that need to be followed for hospital-grade products used in North America—UL 817, CSA C22.2 no. 21, UL 498, and UL 60601-1. For more details, see the InfoPower blog on "Know the North American Hospital-Grade Plug Requirements."
Meeting Hospital-Grade Needs
At Interpower, hospital-grade products include an extensive range of plugs, specialized cable lengths for power cords and cord sets, and individual replacement cords. Interpower also has clear Australian plugs and orange flexible cable and red Danish cord sets. Value-added services include specialized labeling, packaging, and made-to-order assemblies.

For more information on the complete line of hospital-grade products offered by Interpower, see Hospital-Grade Products. See also the Featured Product page.

Interpower offers free technical support. For further assistance, please see Interpower's contact information below.
Topics: designing for export, hospital-grade cords, medical requirements