Interpower Ultrasonic Welding: The "Sonic" That Keeps on Booming
Posted on 6/22/20 2:33 PM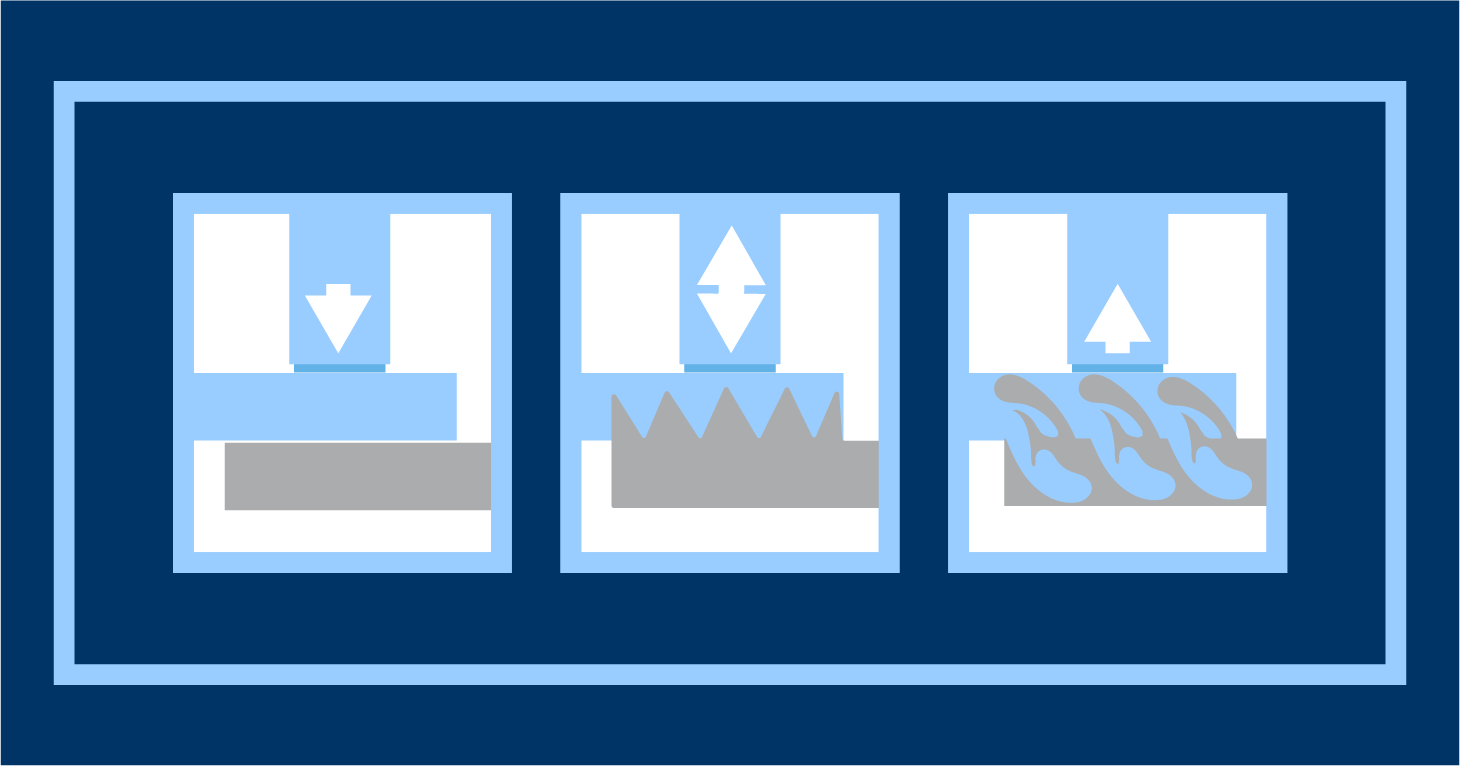 In comparison to the fireworks of traditional welding's molten metal, ultrasonic welding is more a wisp of smoke and a tip of the magician's hat. In the mid to late 1990s, ultrasonic welding had ventured well beyond its plastics and automotive roots of the 1960s and 1980s respectively. By the dawn of the new millennium, ultrasonic welding had expanded far beyond toys and automobile subsystems—it was wired into the consumer electronics industry, including medical devices and components. Though lacking the cachet of robotics and CAD-CAM, ultrasonic welding was already well versed in the language of manufacturing.
Interpower's Ultrasonic Good Vibes
With its headquarters in Oskaloosa, Iowa, and offices in Ames and Lamoni, Interpower manufacturers North American and international cords and cord sets, cable, plugs, connectors, inlets and outlets, socket strips and multiple components for multiple industries including medical. Many of these state-of-the-art products require ultrasonic metals and plastics welding. This article will feature metals.
With its high-frequency ultrasonic waves vibrating at 20,000 Hz per second, ultrasonic welding is the molecular bonding of material through intense friction (heat) and shear force. In Interpower's case, that material is copper wire—all strands of the various gauges must be bonded, resulting in a rectangular "gold brick" of copper. This type of weldment strengthens the existing copper without the copper leaving its solid state, making it both durable and reliable as a conductor of electricity. The copper wire can be welded in various gauges, such as 14 AWG and are used in company's popular Accessory Power Strips.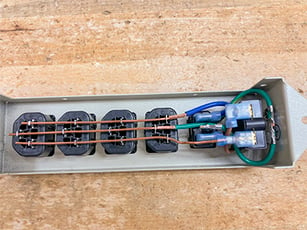 The Welder used by Interpower allows operators to place the wire into the tooling mold's "welding zone" which rests in the welder's anvil, the latter providing a knurled surface designed to hold wires stationary against the lower component which vibrates at 20,000 Hz. The Gathering Tool sweeps across the face of the tip to collect the wire strands and forms the width of the Compressor Chamber. The ultrasonic energy is introduced through the tip or the "horn" creating an oscillating shear force that bonds the materials without melting them. The ultrasonic energy is delivered efficiently with a proper combination of base material, shape, and knurled design.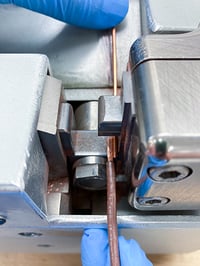 Programmable Parameters:
Energy
Weld Pressure
Amplitude
Splice Height
Weld Modes:
Energy
Time (Seconds)
Height (mm)
Advantages and Testing
Though Interpower uses its welder primarily for copper, ultrasonic welding is used to bond a wide variety of other soft, conductive non-ferrous metals such as aluminum, brass, gold, lithium, nickel and silver—the process allows similar and dissimilar materials to be successfully bonded.
In comparison to other bonding methods such as soldering and clipping, ultrasonic metal welding doesn't require added materials to create bonds. The process is highly controllable and repeatable as a solid-state bonding technique. Many variables are involved in the ultrasonic welding process—amplitude, frequency, pressure and tooling are the major variables.
After experimenting with settings and developing weld parameters and tooling that is suited to your specific application, accurate results should quickly occur and training can be documented for future machine operators based on accurate parameters programmed into the machine. As with any process, testing is a key factor. If not welded properly, loose strands will occur or embrittlement. There is resistance-destruction testing such as pulling/peeling the weld, but destructive testing is time-consuming and may not offer reliable accuracy.
In-process ultrasonic weld inspection has many distinct advantages over the traditional weld inspection methods currently in operation such as destructive testing and manual ultrasonic inspection. A major key is the software's ability to measure the size of the weld brick without the use of destructive testing. Such tracking software in one's welder (CPU) can greatly contribute to the consistency of in-process or real-time weld inspection. When inspection parameters are integrated into the CPU, and measurements are allowed to influence control parameters during the welding process, the inspection system becomes its own automated quality assurance system. This is a major advancement over stand-alone or inspection-only systems.
Choosing the appropriate ultrasonic welder based on application, frequency and materials is also essential. Companies, like Emerson, Sonics and Rexroth offer a range of welders and services to meet ever-changing industry demands, including automation integration—they can help simplify the process of setting up your ultrasonic welding needs for streamlining production. Ultrasonic welding can be used to bond metals and plastics in a variety of applications. In the next ultrasonic welding article plastics will be examined.
---
Topics: product design, testing, designing for export, ultrasonic weld