Interpower Adds New IEC 60320 Automated Production Cell as Lead-Times Soften
Posted on 2/20/23 3:05 PM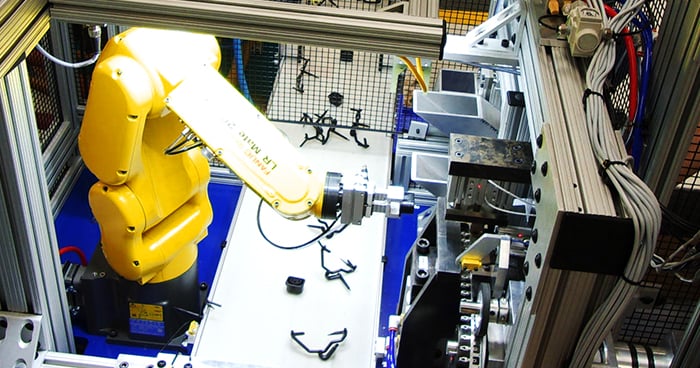 The Cell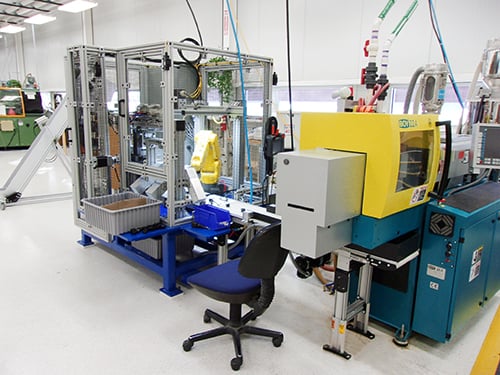 An injection molder and resin dryer to mold and dry the IEC outlets connect to a Fanuc LR Mate Robot via a conveyor belt. On the opposite side of the robot, a contact reel constantly feeds contacts to the robot to keep contact insertion moving along at upwards of 180 outlets per hour. On the same side of the reel, but outside the safety cage, a conveyor belt sends the "runners" (the plastic frame out of which the outlets are ejected) into a resin grinder where the excess is ground into virginal resin for Interpower resuse. The robot, electric-servo driven and pneumatically powered, is bolted down on a steel platform and enclosed inside a steel cage with an open top.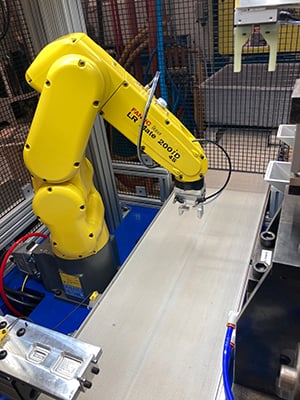 The 6-axes robot in the cell produces humanlike movements mirroring those of the neck, shoulder, arm, and wrist. Its load capacity at the wrist is 9 lbs. It's load capacity overall is nearly 16 pounds. Fanuc LR Mate robots are capable of reaching up to 36 inches. The robot uses the cell's camera and sensors to use "vision" that seems part camera, GPS, and range finder (e.g., the points X, Y, Z, and R on an object)—distances are measured quickly and precisely for locating, picking up, orientating, and inserting contacts into Sheet F and J outlets.
Interpower specialists program settings on the injection molder via a Procan Alpha screen. Robot adjustments are made through the Human Machine Interface (HMI) operator screen, or by using a mobile Tablet Teach Pendant that also features an HMI screen offering drag-and-drop capabilities. Automated production speeds are set to the manufacturer's needs. The entire cell was custom designed for Interpower's production needs by Interpower Vice President of Manufacturing & Logistics, Mike Boyle.
"On average we need to make 560 Sheet F and J outlets a day to meet current demand," Boyle said. "We want to exceed that significantly as we ramp up production—it's part of returning to our original lead-times as we continue to gain ground."
Injection vs. Extrusion Molding
Sheet Fs and Js are injection molded with hot thermoplastic (PBT) into cavities where they cool inside the mold as opposed to extruded thermoplastics which take longer to solidify once molded, the latter being pushed into a die versus being injected into a cavity. The injection molder in the new IEC cell delivers 22 tons of clamping force.
Currently one Interpower employee inserts and inspects 1000-1200 Sheet Fs and Js during an eight-hour shift. The addition of the new automated cell allows the current operator to assist manufacturing in the molding or made-to-order department, increasing efficiency while retaining invaluable employee skill sets.
In addition to the new cell, there is a separate Sheet F and J pneumatically operated machine requiring an operator where F and J outlet contacts are inserted by hand.
Sheet F & J
Sheet F and Sheet J outlets consist of a family of parts. The Sheet F is the smaller body of the two. Within each Sheet F and J there are two body styles, screw mount and snap mount. The body areas of these two styles are identical for the Sheet F and J. The face or flange is the only area that changes. The backsides of the bodies are identical between the screw mount and snap mount.
Sheet F
Screw Mount
Snap Mount
Sheet J
Screw Mount
Snap Mount
Contact Styles
Within each body style there are two styles of contacts that can be placed into them: either quick disconnect (QD) style or solder tab style. All one style of three contacts will always be used. QD will never be mixed with solder tab and vice versa.
Sheet F
Solder Tab
QD
Sheet J
Solder Tab
QD
---