Hospital-Grade Cords—Fighting the Good Fight
Posted on 9/14/20 4:46 PM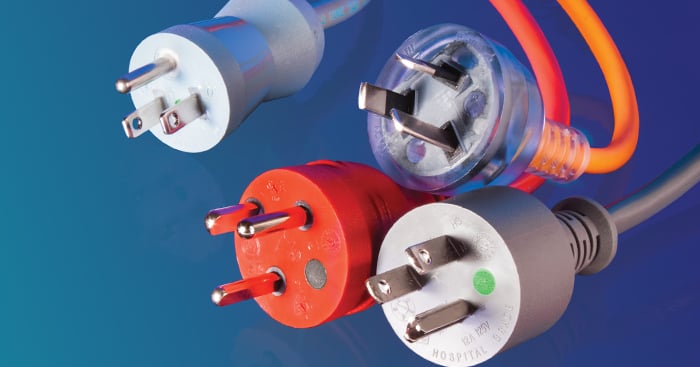 Whether it's a hospital in a city or a clinic in a small town, reliable power is critical to medical facility patients, families and staff. Interpower Hospital-grade plugs can be molded or hand-wired in several colors. The color of choice for many hospitals and clinics, however, is the clear, see-through Interpower hospital plug. The clear plug allows medical staff to see if plug wiring and other components remain intact.
Wear and Tear
Yet, even under normal use, the North American medical industry experiences problems with medical power cords, primarily with the wall plug. These problems usually arise during urgent connects and disconnects during emergencies (e.g., Code Blues) when plugs are quickly pulled or even yanked from wall receptacles. This may cause damage to the plug blades. Furthermore, straightening a set of bent blades can loosen the blades and ground pins or crack the blades which could result in arcing, which might lead to a potential fire.
This damage is preventable by pulling on the plugs and not the cords. In extremely busy care facilities where multiple connects and disconnects occur daily, staff should routinely inspect the wall plugs, outlets, and flexible cords for damage. Staff should also ensure that plugs and outlets are not smashed or bent by beds, chairs, or other medical equipment. If blades or ground pins are bent or fractured, or the cord is damaged, they should be replaced immediately.
The Green Bull's-eye of Excellence

While all Interpower hospital-grade cords are rigorously tested and inspected during and after production. In North America, all hospital-grade cords must bear the "green dot."
Differences in NEMA 5-15 cords and the Green Dot
NEMA 5-15 hospital-grade cords versus standard NEMA 5-15 cords share some obvious similarities—and some major differences. Both 5-15 cord sets are grounded, Class I, 125V cord sets. The "5" states the cord set is rated at 125V, and the "15" states the cord set is rated at 15 amps. Both 5-15 cord sets can be "hand-wired" instead of molded for in-house staff to visibly inspect electrical continuity by noticing whether the wires have been pulled out of the crimp, or if broken crimping has been pulled away from the wires.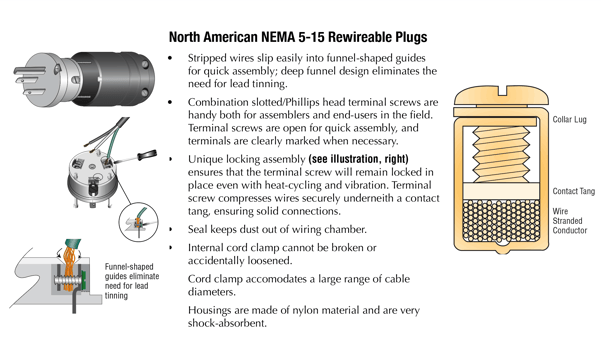 Also noteworthy is the size difference of each 5-15 plug—the Interpower hospital-grade plug is significantly larger to provide more protection to sudden inadvertent disconnects from sockets, and from being constantly used in multiple rooms with varying ambient temperatures. Yet both cord sets go through rigorous testing during and after production at Interpower; and both NEMA 5-15s come in gray, black, or clear colors.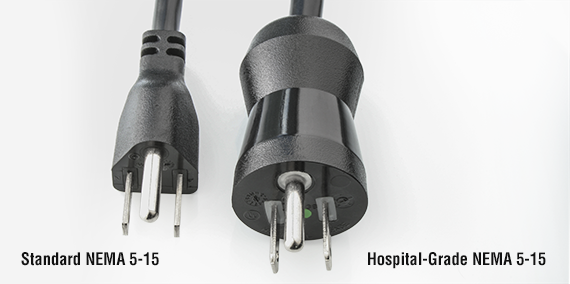 The NEMA 5-15 hospital-grade plugs and receptacles bear the green dot, signifying they have been rigorously tested to meet power supply cord standards UL 817 and C22.2 No. 21-14 requirements for Hospital-Grade power cords and cord sets. The hospital-grade plug diameter conforms to NEMA WD-6:
"(1) the blades must be solid instead of folded brass, (2) the blades are usually nickel-plated, (3) the plug includes an internal cable retention device or strain relief to prevent any stress to the plug's internal connections and (4) NEMA plug and receptacle are marked "Hospital-grade" and with a green dot." The retention device Interpower uses in (3) are stainless steel rings to solidly hold the connections in place.
UL 498 and UL 60601 also list requirements for fault current, terminal strength, ground contact temperature and resistance, assembly security, cord grip strain relief and cord pull, and other durability and impact tests of the material.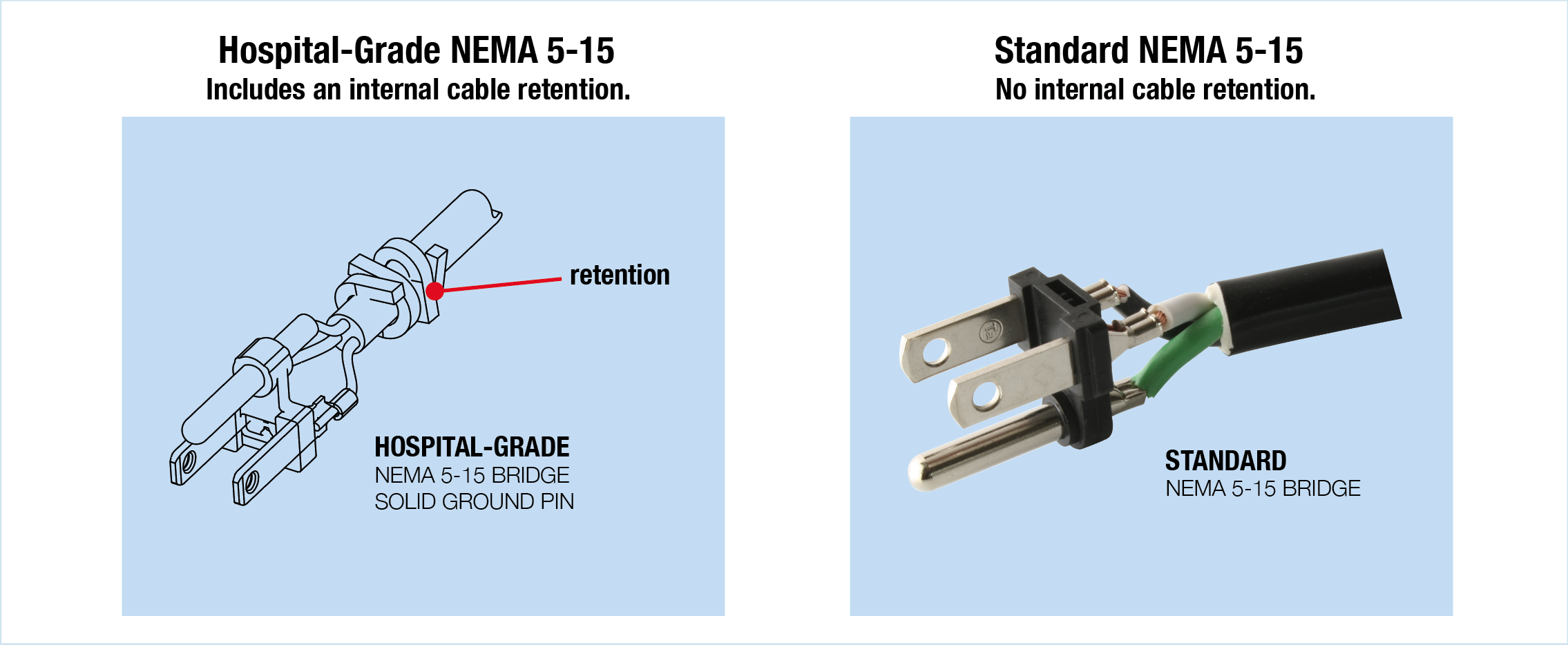 Tortuous Testing
The UL 817

Abrupt Removal Test

for hospital- grade plugs consists of a plug which is plugged into a socket. The wire from the plug is attached to a 10-lb weight which is then dropped to abruptly disconnect the plug from the socket to see how far the blades have bent, and to see if the wires have lost electrical continuity.
The Abrupt Pull Test is for a standard NEMA 5-15 plug, not a hospital-grade plug. A 2 ½ pound weight is attached to the plug's cord and dropped 25 times from the connected plug and socket. Before the initial drop, three lights on the test equipment glow red showing electrical continuity. However, during the test, if one of the three wires fail (line, neutral, and ground) and one or more lights go out, the test is considered a failure. If that occurs, the plug is examined to see why continuity was broken. More on the Abrupt Pull Test per the UL 817 standards in section 12.5 can be found below:
12.5.1 Three-Conductor Cords
12.5.1.1 Plugs and the male portion of molded-on current taps used on cord sets and power-supply cords employing a grounding conductor shall prevent discontinuity from occurring in the grounding conductor or either of the two-line conductors of three-conductor cords employing conductors smaller than 10 AWG (5.26 mm2), when tested in accordance with 12.5.3. Test procedure for three-conductor cords 12.5.3.1: Six representative assemblies consisting each of an attachment plug or current tap molded onto a flexible cord 0.3 m (12 in) in length are necessary for the test. Those having a ground pin shall be tested with the ground pin in the up position, except for right-angle plugs, which shall be tested only in the cord down position.12.5.3.2. The plug shall be securely attached by the blades to the mounting plate of the test apparatus and the plate positioned so that the plug is pointing downward at an angle of 45 degrees to the vertical.
Interpower testing goes beyond criteria for both the Abrupt Removal Test and the Abrupt Pull Test.
"We test more than is required by the standards for our own benefit as well," Product Development Manager Ron Barnett says. "We go beyond the standards because it lends better reliability to our design—products become more reliable in that regard."
For hospital-grade molded-on or hand-wired NEMA attachment plugs and connectors, the UL 817 and CSA C22.2 no. 21 requirements are applicable to the following configurations: 5-15, 5-20, 6-15, and 6-20.
On a Global Scale
Medical Standards in Japan

Hospital-grade plugs and outlet-sockets need to be approved in accordance with JIS T 1021. Each shall be indelibly marked with an "H" and for plugs, a green dot is allowed. Hospitals have specific preferences when using hospital-grade plugs and sockets.
Medical Recommendations in Australia and Denmark
Australia
Medical equipment needs to meet the AS/NZS 3200 standard. There are no special requirements for plugs, only preferences. All Australian plugs must be approved to the AS/NZS 3112 standard. In Australian medical applications, it is preferred by some hospitals to have a clear plug with an orange, flexible cable. However, when replacing the original plug with a rewireable plug of a type complying with the requirements of AS 3112 for 3-pin plugs, the plug SHALL be clear-backed to facilitate inspection of the core colors and the condition of the terminations. This is in accordance with AS/NZS 3200.1.0 Medical electrical equipment general requirements for safety.
Denmark
There are Danish hospital-grade plugs and sockets that are recommended for use in medical applications. The socket is designed to prevent "normal equipment" from being connected and disrupting the mains circuit in specific medical settings. For select medical facilities in Denmark, red is the preferred color.
Additional Resources
For more information on the complete line of hospital-grade products offered by Interpower, see Hospital-Grade Products. See also the Featured Product page.
---
Topics: product design, testing, hospital-grade cords