GFCI Sockets Contribute to User Safety
Posted on 10/22/19 8:04 AM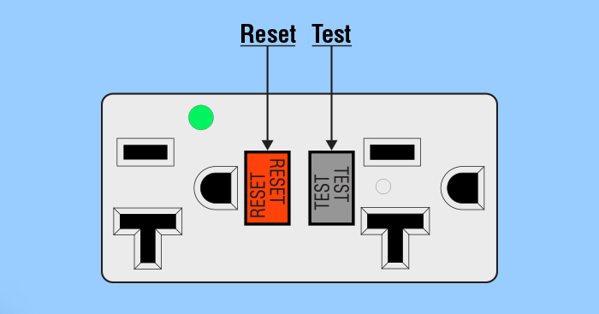 User safety is a huge benefit of incorporating a Ground-Fault Circuit-Interrupter (GFCI) into an electrical product, such as a socket.
According to the 2014 National Electrical Code® (NEC) Handbook, "Data shows a decrease in the number of electrocutions in the United States since the introduction of GFCI devices…Most safety experts agree that GFCIs are directly responsible for saving numerous lives and preventing countless injuries."
Definition of a Ground Fault
A ground fault is an "unintentional, electrically conductive connection between an ungrounded conductor of an electrical circuit and the normally non-current-carrying conductors, metallic enclosures, metallic raceways, metallic equipment, or earth." (2014 NEC Handbook)
Purpose of a GFCI
Electricity typically chooses the shortest path to ground. When a ground fault happens, the shortest path may be through a person. A GFCI can protect users against electrical shock by monitoring current levels in the line and neutral conductors, which in normal operation are relatively equal. But, in the event of an electrical short to ground, the current levels will dramatically increase in the conductor shorted to ground. GFCIs are designed to shut the power off if the current levels differ by 5mA.
Advantages of a GFCI
Several advantages that make it worthwhile to install a GFCI device include:
Electrical shock prevention—If a person starts to receive an electrical shock, the GFCI can cut off the power to help avoid an injury.
Fire prevention—One of the main functions of a GFCI is to detect a ground fault. If a ground fault occurs, it could start an electrical fire.
Protection of equipment—The GFCI can help prevent equipment and appliances from being damaged by detecting electrical leaks.
GFCI Sockets Offered by Interpower
Interpower offers North American GFCI socket assemblies for industrial control panel equipment applications. One GFCI socket combines both an external NEMA 5-20R and an internal NEMA 5-15R control panel into one assembly (Interpower part number 88051010). It is intended for panel-mount use by industrial equipment OEMs (original equipment manufacturers) typically as convenience power outlets on control panels or in conjunction with power distribution devices in large electrical and electronic systems. Applications include factory settings where water or fluids may frequently come in contact with the enclosure, such as equipment wash-down applications.
P/N: 88051010
Special features include:
Test/reset functions—The test/reset functions are accessible outside the control panel. This allows maintenance personnel to safely test/reset the GFCI function when the control panel is closed.
NEMA 12/4 enclosure rating—NEMA 250 classifies enclosure ratings for solid objects and moisture, plus indoor and outdoor use. The "4" in the NEMA 12/4 rating means enclosures are good for indoor or outdoor equipment and offer protection against falling dirt, windblown dust, or water (such as rain, sleet, snow, splashing water, and hose directed water). The "12" indicates enclosures are intended for indoor equipment and only offer protection against falling dirt, circulating dust, lint, fibers, and against dripping or light splashing water. The NEMA 12/4 combination rating means the features of both type 4 and type 12 are included in one part.
IP 65 enclosure rating—IEC 60529 outlines an international classification system for the sealing effectiveness of enclosures of electrical equipment against the intrusion into the equipment of foreign bodies (e.g. tools, dust, fingers) and moisture. This classification system utilizes the letter IP (Ingress Protection) followed by two numbers. In looking at the IP classification chart, a "6" as the first digit means the enclosure needs to be dust-tight and protected from the ingress of dust. A "5" as the second digit means it needs to have protection from water jets.

Note: the NEMA 12/4 and IP 65 enclosure ratings apply only when the cover is properly closed and latched. The hinged lid is designed to be mounted so it opens upward.
Interpower also offers an external duplex NEMA 5-20R GFCI socket (Interpower part number 88051020). Both assemblies fit the same cutout hole.
P/N: 88051020
Additional Resources
For more information, see Interpower sockets by part numbers and the Plugs and Sockets page.
Interpower offers value-added options and free technical support. For further assistance, please see Interpower's contact information below.
---
Topics: safety, NEMA Sockets, GFCI Sockets