Despite Trucking Setbacks, Mexico Top U.S. Trading Partner as Peso Rises
Posted on 9/18/23 3:11 PM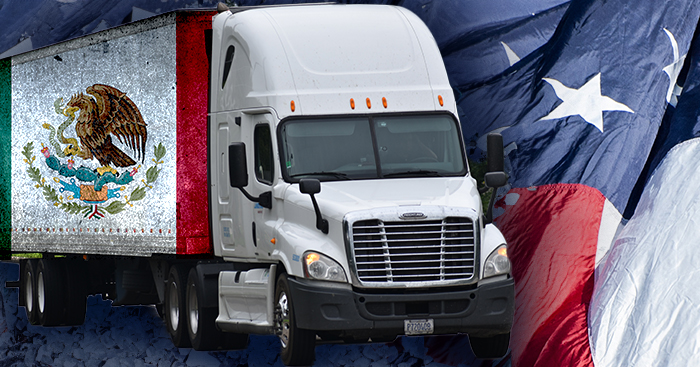 Fairly or unfairly, many movies set in Mexico, or partly in Mexico, often feature banditry or other cartel unpleasantries which, of course, could be said of any other country in the world. Yet lately, Mexico has experienced a surge of crime directly affecting a major segment of their supply chain—ground transportation, or more precisely, the over-the-road trucking industry. While the U.S. has its own cargo theft issues (240 cargo thefts in the first six months of 2023) with the most pilfered states being California, Texas, and Georgia respectively ($360,000 per heist), Mexico's cargo thefts are off the charts.
In Q2, Mexico averaged 58 cargo thefts a day according to Overhaul, a software-based supply-chain risk insurance and intelligence company. The highjacked items included food and beverage, building materials, home and garden supplies, metals, and auto parts. Cargo thefts in Mexico during the second quarter averaged to 1,726 incidents per month, a 6% increase from 2022.
Perhaps just as astounding as the sheer number of thefts is that drivers are still willing to drive these routes, which begs another question—are drivers paid by cartels to take many of these over-the-road trucking jobs? Or are the truck thefts and highway banditry diversions for cartel Fentanyl coming across the U.S. border? Curiouser and curiouser.
In Mexico, the highest ratio of cargo theft (62%) occurred in central Mexico, though other areas of the country are on the rise, such as the northwest and western regions of the country. According to Overhaul: "Although criminal activity continued to be clustered on workdays (times), the months of April, May, and June saw a growth in thefts conducted during the night from 6 p.m. to midnight."
In categorizing the types of cargo thefts in Mexico during the second quarter of 2023, the most common thefts were entire truck loads (35%), followed by pilferage from partial truckloads (31%), deceptive pickups—thieves posing as actual delivery drivers—(23%), facility or warehouse theft (4%), and highjacked trucks (3%). Overhaul reports the level of violence used by criminals to commit the crimes has escalated in 2023.
Q2 Most Common Cargo Thefts in Mexico

| | |
| --- | --- |
| Entire Truck Loads | 35% |
| Pilferage from Partial Truckloads | 31% |
| Deceptive Pickups | 23% |
| Facility/Warehouse Theft | 4% |
| Highjacked Trucks | 3% |
"Criminal groups are expanding their areas of action while increasing the number and specialization of people dedicated to cargo theft." One of the most dangerous routes for truck drivers in Mexico is the Arco Norte Highway, a highway on the northern perimeter of Mexico City that's also federal highway M40D—the Arco Norte highway has one of the highest rates of theft in the world. On June 24, 2023, 40 motorists were robbed in what appeared to be a staged accident on the Arco Norte in the state of Tlaxcala.
The Conundrum of it All
Despite the highjacked trucks, thieves posing as truckers, driver beatings, and understaffed—and likely undergunned—law enforcement, the sun is gilding the Mexican Peso as evidenced by Mexico replacing Canada as America's number one trading partner with China a distant third.
While two figures have been given for the total amount of trade between the two countries in 2022— $863 billion and $779 billion in 2022 by the state of Texas and the U.S. Census Bureau respectively—within 5 years U.S.-Mexico trade is projected to reach $1 trillion. Conversely in 2022, trade with Canada totaled $793 billion while trade with China totaled $690 billion.
Also, for the fourth straight month, Laredo, Texas, remains at the top of the nation's 450-plus international ports. The Port of Los Angeles previously held that perch until the first quarter of 2022 when Chicago's O'Hare International Airport took the top spot (Forbes).
During May, Laredo recorded a 7.4% year-over-year increase in total commerce to $28.1 billion, according to the latest U.S. Census Bureau data analyzed by WorldCity, Inc. During that same time, the Port of Los Angeles ranked number 2 ($25.6 billion) while Chicago O'Hare ranked Number 3 ($24 billion).
---
Topics: shipping, supply chain