Designing with IEC 60320 Components
Posted on 4/8/19 9:41 AM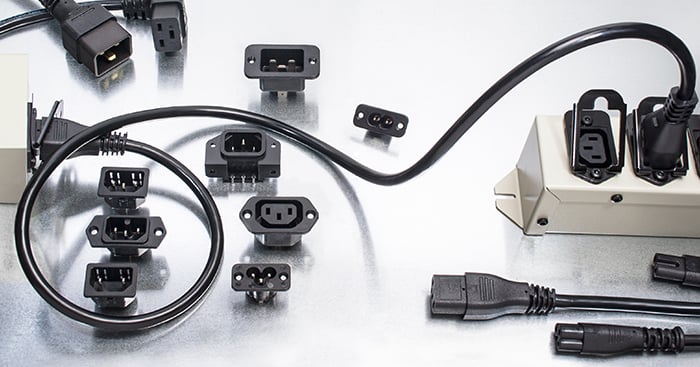 Two benefits of incorporating IEC 60320 components into an electrical product design: they are generally accepted globally and can be included in a variety of products.
IEC stands for International Electrotechnical Commission. The IEC 60320 standards are a series of international standards specific to connectors, inlets, plug connectors, and outlets.
IEC 60320 Components
An IEC 60320 connector and inlet, also known as an appliance coupler, allow manufacturers to make one product that can be used in many different markets, by only having to change the cord set. Appliance couplers are primarily used for incoming power to a system.
If accessory power needs to be supplied from one piece of equipment or appliance to another, then a plug connector and outlet, also known as an interconnection appliance coupler, may be used. These couplers are primarily used for outgoing power from a system.
Products Using IEC 60320 Components
IEC 60320 components can be found in a variety of Interpower product lines including: accessory power strips, power cords and cord sets, and modules.
Accessory Power Strips
An accessory power strip helps make it easier to build equipment that can be sold globally, because different components work together in one system. At its core, this system consists of a socket strip (an IEC 60320 inlet, circuit protection, and four or more IEC 60320 outlets), several jumper cords, and one country-specific cord set. An accessory power strip can be useful in many applications, including medical, information technology, and professional-quality industrial equipment. It can also be used in mall or airport kiosks where space is at a premium.
Power Cords and Cord Sets
It is essential to ensure that end users have the correct means of connecting to their local power mains supply. It is also important to provide equipment that is easily adaptable to the needs of the consumers, without any reconfiguration needed on their part.
One of the most common methods of connecting a detachable cord set to an electrical or electronic piece of equipment is by incorporating an IEC 60320 power inlet into the product design. By designing with an inlet, the manufacturer can attach a country-specific cord set (a country-specific plug on one end with an IEC 60320 connector on the other end) just prior to shipment. This allows the equipment manufacturer to create one product for sale worldwide.
Modules
A module is a device that can combine multiple functions into a single unit to control power entry. Interpower's modules have from two to five functions. Two of the possible functions are an IEC 60320 inlet, which is responsible for bringing electricity into the unit via connections with a detachable cord set, and the IEC 60320 outlet, which is a connection device that provides access to electricity from a power source.
The most common inlet is the IEC 60320 C14, although other style inlets, such as the IEC 60320 C6, C8, and C20, are occasionally offered by some manufacturers.
Additional Resources
For more information on Interpower products that contain IEC 60320 components, see accessory power strips, power cords and cord sets, and modules.
See the complete line of IEC 60320 products available at Interpower, along with a complete list of IEC 60320 connectors, inlets, plug connectors, and outlets found on the IEC 60320 Appliance and Interconnection Couplers chart. View a webcast on the "Overview of the IEC 60320" found on the Interpower website.
Interpower offers free technical support. For further assistance, please see Interpower's contact information below.
Topics: product design, designing for export, IEC 60320