Designing with a Rocker Switch
Posted on 4/23/18 1:30 PM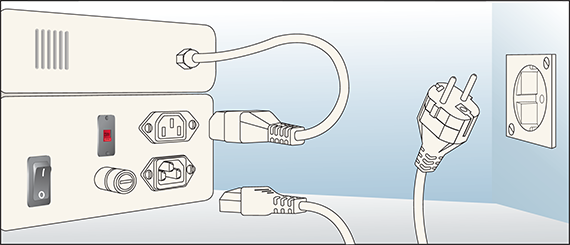 A switch is an electrical component on a piece of equipment that may be used when incoming power needs to be controlled. From being used on a vacuum cleaner to a life-support machine, the purpose of a switch is to open and close a circuit. Opening a circuit (turns a device OFF) is achieved by breaking a connection in the circuit. This stops current flow. Closing the circuit (turns a device ON) allows the current to flow again.
A switch has only a few parts: the actuator, the housing, the contacts, and the terminals. The actuator (the moveable part) can come in a variety of styles, such as rocker, rotary, toggle, and push-button. There are also variations in switch designs that define how the switch opens and closes the circuit. The double-pole, single-throw rocker design is used in switches carried by Interpower.
Double-Pole, Single-Throw Design
The main reason for choosing this design is the safety considerations in the international market because international wiring systems are generally non-electrically polarized. By using the double-pole, single-throw switch, the contacts can cut off power to both the line and neutral when flipped into the off position. The simultaneous switching of both current carrying conductors is required in most international standards and accepted by North American standard agencies.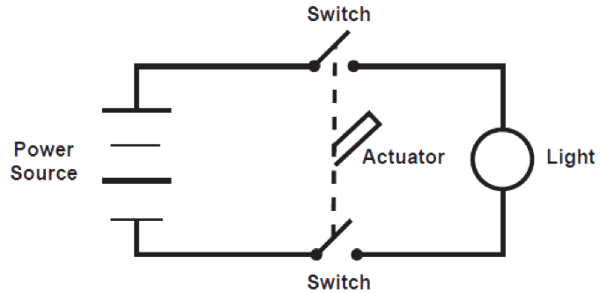 Rocker Switch Characteristics
Rocker power switches are usually intended for use in mains power applications on equipment, such as in a home computer or a large piece of manufacturing equipment. They can be sold globally because they fit in industry standard panel cut-outs and carry agency approvals, current ratings, and contact spacings that are appropriate for global applications.
There are a number of reasons why the rocker actuator style is becoming increasingly popular on a power switch. It extends very little beyond the panel on which it is mounted. The switch itself contains the markings that indicate position, which eliminates the need for separate power status indicators. It is usually harder to accidentally activate a rocker switch than a push-button switch. Generally, a rocker switch can handle more current than a push-button or slide switch because a snap action switch design can be used.
Silver-plated contacts, which are contained in these switches, are generally specified for many electrical and electronic applications, such as computers, power supplies, power tools, industrial controls, instrumentation, medical, and telecommunications. Connections can be made via 6.3mm or 4.8mm quick disconnects. This switch may also help save assembly labor because it can snap directly into a panel with no additional hardware required.
Additional Resources
For more information on switches offered by Interpower, see Switches and the Featured Product page.
Interpower offers free technical support. For further assistance, please see Interpower's contact information below.
Topics: product design, rocker switch