Designing for Compliance
Posted on 7/20/20 1:34 PM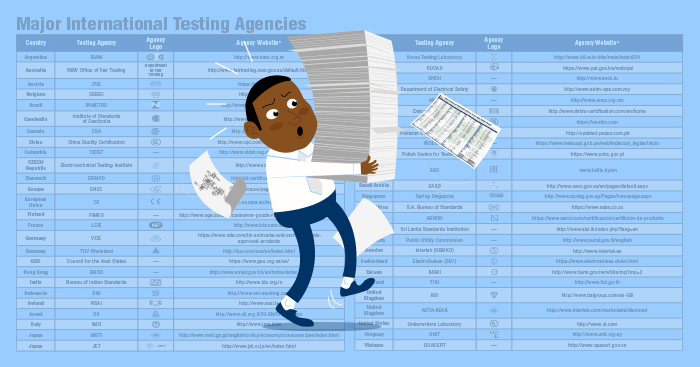 In the beginning stages of a new product's design, engineers and product developers usually know how their products will be marketed. That decision determines which national or international standards need to be followed, and which safety agency they will work with in obtaining approvals for their products.
Is it Certified "Safe"?
Designing for product compliance begins with understanding where the standards originate, and who actually certifies the product as safety approved. A safety approval certifies that a product is safe for its intended application. Besides making an electronic product more marketable, a designer must also know the numerous safety regulations codified by various international safety and standards committees and country-specific bureaus.
So why should electrical equipment manufacturers design products with safety regulations in mind? Because most countries require their own regulatory authorities to evaluate electronic products before they connect to their country-specific mains. Manufactured devices for the home, for example, may not be sold without being tested and approved by the appropriate safety agency. In stark contrast, countries exporting electrical products without mandatory testing or proper inspection prior to a sale assume a significant amount of product liability in the event of a product failure and someone is injured or property is lost due to fire.
Another key factor after meeting safety requirements is product quality and reliability. Manufacturers feel reassured when their products meet or exceed national and international expectations for safety. Of course many manufacturers of appliances and devices in multiple industries submit products for testing and approvals since it's mandatory. Others may do so as to compete for government contracts which have country-specific requirements. Gaining national agency approvals minimizes product liability exposure.
Standards vs. Safety Testing Agencies
There are two main types of agencies: the standards agency and the testing agency. Standards agencies document product design parameters and performance requirements. Testing agencies perform product tests to ensure they meet the standards agencies' requirements—they check the parameters and performance requirements as they have been documented. Then the testing agency documents its findings to let the manufacturer know whether its product is a "pass" and can then be approved.
Each agency keeps multiple copies of its documents for its own use as well as the manufacturer. An example would be UL's online iQ Database where manufacturers can see whether certain types of resins meet testing requirements for plugs or sockets so that the manufacturer can save the cost of submitting a product already approved by an agency.
"Many individual countries around the world have their own standard and testing agencies to verify that the electronic products that are brought into their country will work safely and effectively," says Joe Caligiuri, Product Compliance Specialist at Interpower Corporation. "Contact a safety agency within the country you're planning to sell the product in. While requirements vary per agency, most require an application to be filled out regarding the product. The agency may ask for a sample of the product and technical information, such as product specifications."
Product safety approvals are based on standards within a given country or region, but an agency approval for a given country may be accepted in other countries. If this new product is to be sold in more than one country, Caligiuri suggests checking with those countries to see if they accept another agency's test report (e.g., German VDE or TUV safety approvals are honored throughout most of Europe). Asia, however, is a more disparate region—some countries accept another agency's test report while others don't; some require country-specific testing only.
Caligiuri on being compliant with standards and testing: "It helps to make the process smoother. It keeps costs down if you can find a safety agency approval that is accepted in more than one country."
Why Use "Approved" Power System Components
Many agencies reserve the right to test unapproved power system components separately, which may cause delays as well as extra charges for testing. Even if the unapproved components are accepted by the agency, they usually are given an applications approval which allows their use only in that specific application. If unapproved parts are used and something changes, this could cause a company to fail an inspection—few electronic equipment producers can economically justify the use of unapproved power system components.
Customer Expectations
The importance of having a safety approval on the product is that many customers expect it. Interpower's product philosophy is oriented towards making compliance easy for the electrical or electronic product designer. Wherever possible, individual power system components offered by Interpower® have been designed or selected so that one single component can be used in as many different countries as possible.
Additional Resources
Interpower offers a list of international testing agencies, as well as a printable version below.
---
Topics: designing for export, compliance standards, adding marketability