Crimping Your Conductors Without Cramping Your Quality
Posted on 12/14/21 9:48 AM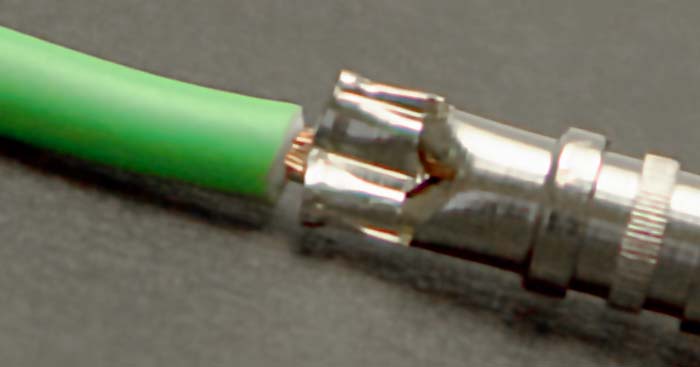 Let's say you're using a crimping machine at Interpower to crimp bridges on one end of your electrical cords. The bridges are manually loaded into a "barrel" at the top of the machine approximately eight feet off the production floor. A set of steel stairs with handrails provides safe access. Once loaded, the bridges are automatically aligned in proper position by sensors and air jets as they spiral down the chute to feed into the automated crimping tool.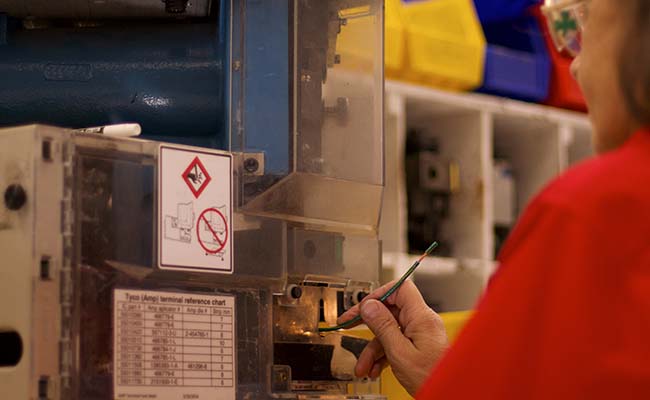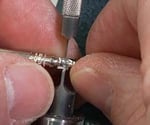 Back on the production floor, the machine operator manually inserts a three-wire conductor into color-coded insertion points (line, neutral, and ground) where sensors ensure the inserted wires match the correct configuration. Once the crimping is completed and the machine releases the cord, a supervisor or trained production worker can now measure crimp height and width with a micrometer to see if the size of the crimp meets the spec range, which the production team has already established.
Interpower's Cross Section Station
At Interpower, batches of crimped cords are routinely sent to Interpower's testing facility in Ames, Iowa, for detailed inspection and testing. Crimps are evaluated in four basic areas: Crimp height, crimp width, conductor wire compaction within the terminal crimp, and conductor wire pullout force.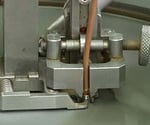 At the lab's Crimp Cross Section Station, crimp barrels (the two rounded protrusions of a crimp) are cut in half. They are then washed in acid before being ground smooth at the micrograph station. Next, the crimps are photographed under a microscope to check conductor compression, and to check for any "voids" or gaps in the crimp. Optimal crimp quality results in uniform strand compression, similar to a honeycomb appearance. A micrometer is used once again to measure the crimp.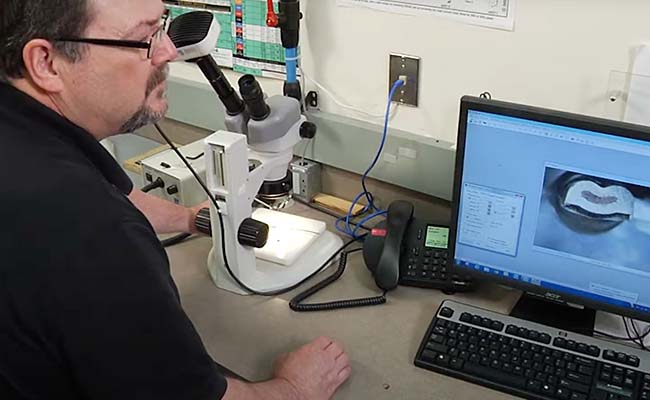 Now comes the pull-to-fail or pullout test—how much force is required to pull conductors out of the crimp? Pull force is typically measured in Newtons. While there are no guidelines for visual inspections, there are guidelines supplied by the manufacturers of terminals. There are conductor wire pullout guidelines published by Underwriters Laboratories (UL) and the International Electrotechnical Commission (IEC). The test parameters are specified in UL 486A-486B section 9.3.4.1 (see Table 27), and in IEC 60352-2 clause 5.2.2.1.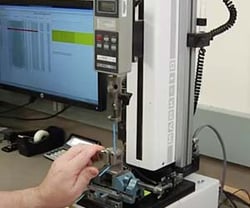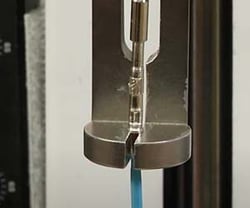 "We want a solid, well-compressed crimp," said Ron Barnett, Interpower Product Development Manager. "We don't want any 'voids' or openings of any type. And we don't want the conductors pushed to one side."
| Good Crimp | Bad Crimp |
| --- | --- |
| | |
Gaps or openings in crimped wires have proven to cause overheating, which may lead to electrical fires. A badly crimped wire may also lead to a loss of electrical continuity. "We also check the terminals for cracking," Barnett said.
Video Transcription:
Crimps are measured using our crimp quality equipment. We start by measuring crimp height and width. Then we evaluate crimp quality using the micrograph lab station. Following the crimp evaluation samples are then pull tested for crimp retention.
Topics: product design, designing for export, power cord, conductor crimping, crimps