Choosing a Power Cord or Cord Set
Posted on 9/23/19 10:40 AM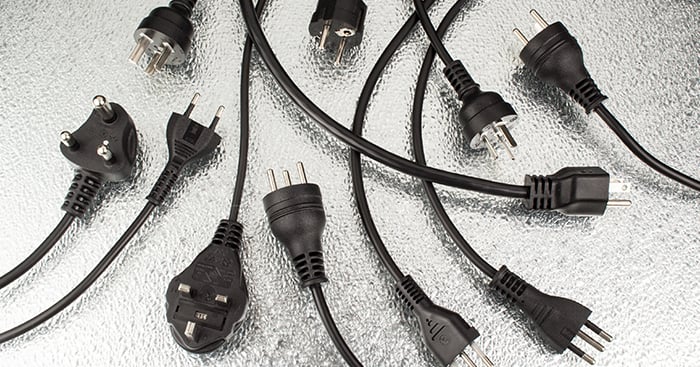 Selecting the appropriate power cord or cord set starts with knowing who the end user will be. Due to a variety of standards and different plug patterns used throughout the world, it is essential to know what is needed per that country's requirements.
Choosing a Power Cord or Cord Set
Choosing a cord usually involves four steps:
Identify the Correct Plug According to Where the End User Will be Located
Determining the correct plug is essential. Interpower offers a Guide to Worldwide Plug and Socket Patterns and Power Mains (Single-Phase)

that gives frequently specified plug patterns by country. "When deciding on the correct plug pattern, keep in mind that while some plugs may look similar that does not mean it is the right plug for the product. For example, the plugs used in Argentina, Australia, and China have similarities in appearance, but have important differences between them and cannot be used interchangeably within those countries," explained Ron Barnett, Product Development Manager at Interpower.
Determine the Rating of the Power Cord or Cord Set
It is crucial to know the amperage and voltage ratings required for the product being exported. "Higher or lower amperage can mean a different plug pattern, even in the same country. Amperage requirements also affect the cable size. North America has a different voltage, amperage, and frequency compared to most of the rest of the world," Ron said. The Guide to Worldwide Plug and Socket Patterns and Power Mains (Single-Phase)

also gives information on voltage and frequency requirements.
Choose the Correct Cable
North American cable is different from international cable which is different from Japanese or Chinese cable. "North American cable cannot be used in countries where international cable standards are in place and vice versa," Ron explained. "For example, removing a North American plug from a cord set made with North American cable and replacing it with a Continental European plug will not make the cord set acceptable for Europe."
Choose the Correct Connector, if Utilizing a Cord Set
If exporting globally, consider incorporating IEC 60320 components into the product design. "An advantage of using an IEC 60320 component is that it can assist in making the product globally accessible," Ron said. "For example, an IEC 60320 connector can be attached to a detachable cord set with a country-specific plug. The connector will provide the power to the equipment by connecting with an IEC 60320 inlet in the equipment. The use of IEC 60320 components designed into a product allows the same equipment to be used in a variety of markets."
One important note regarding the rating on the power cord or cord set: A cord is rated by the "weakest link." This means that a plug, cable, and connector are considered as individual components and the one with the lowest rating determines the rating for the entire assembly. For example, a cord set with a 15A plug on 13A cable with a 10A connector will have an overall rating of 10A.
Guidelines
Interpower manufactures a number of power cords and cord sets and follows these guidelines when making them.
All appropriate standards are followed.
Minimum and maximum lengths are followed per country regulations and/or standards.
Current ratings are based on the lowest rated component.
Voltage ratings are based on the lowest rated component.
Additional Resources
For cord set configurations that are allowed, see International Cord Set Configurations and North American Cord Set Configurations. See also North American and International Power Cords and Cord Sets and IEC 60320 Products. To determine which plug patterns are used in specific countries, see Guide to Worldwide Plug and Socket Patterns and Power Mains (Single-Phase).
Interpower offers value-added services and free technical support. For further assistance, please see Interpower's contact information below.
Topics: cord set, product design, power cord