Benefits of Using a Power Entry Module in Your Electrical Design
Posted on 12/7/20 4:18 PM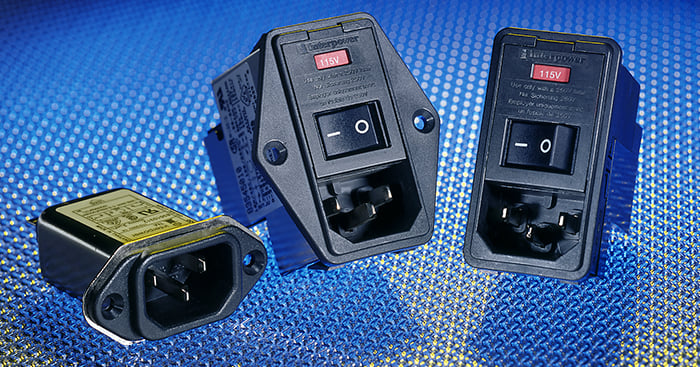 A module is a device that combines multiple functions into a single unit to control power entry. There are several reasons to choose a module over individual components that are installed piecemeal.
When choosing a module in your design, the first step is deciding which functions or components your module should contain. Typically an Interpower module offers two to five functions: an inlet, outlet, switch, circuit protection, voltage selector, and a filter.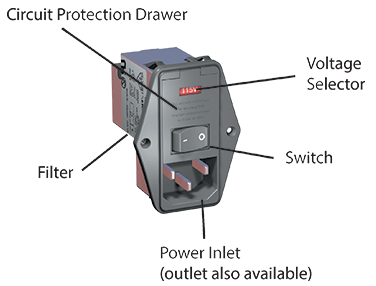 Possible combinations include: An IEC 60320 inlet or outlet, a switch, circuit protection, a filter, and a voltage selector.
Inlets, Outlets, and Cost Reductions
The inlet is the conduit for providing power with a detachable cord set. The most common means of connecting cable to equipment is via the IEC 60320 (C14, C13, etc.). The inlet contains blades for receiving a cord. The outlet is the component that allows blades to plug into the equipment to transfer power to a piece of peripheral equipment. A switch allows the module to turn "on" or "off" to either accept or cut off electrical current. Switches can be mounted to equipment either horizontally or vertically.
Power entry modules combine several components into one panel mounting system, which saves valuable space; modules simplify electrical designs by combining multiple functions into a single power entry unit. They also reduce component inventory and assembly labor. This reduction in component inventory and labor likely leads to another important benefit of modules: lower costs, including overhead.
While modules may not reduce material costs in an electrical design, they may save company expenses in engineering, assembling, and additional labor. Decreasing the number of components means decreasing the amount of testing and agency documentation. Material handling and purchasing times are also reduced—it is an important factor to consider as industries become leaner. Modules are ideal for use in a variety of applications, including information technology and medical equipment.
Circuit Protection, Voltage & Safety
Modules can provide circuit protection in two primary ways: circuit breakers or fuses. Both reduce the possibility of harming the equipment or causing the end user physical harm.
The risk of accidents may be reduced when using a module. The design of most modules makes it necessary to remove the power cord assembly from the unit prior to making any changes, like fuse replacement and/or voltage selection. Interlocking the power entry connector with access to other module functions reduces the probability of accidental shock by the end user.
A voltage selector allows designs to operate on 115 or 230VAC. The selector changes voltage by changing connections on the transformer. This allows the correct input voltage to be used. Modules also may contain a filter that removes unwanted radio frequencies (RF) that may have an adverse effect on the operation of equipment.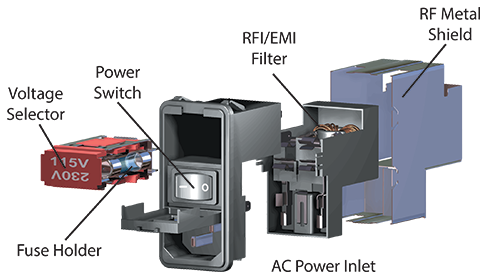 One example of a multi-function power entry module.
Topics: product design, modules, designing for export