Amplifying Hospital-grade Power with NEMA 5-15, 5-20, 6-15, & 6-20 Cords
Posted on 9/20/21 2:36 PM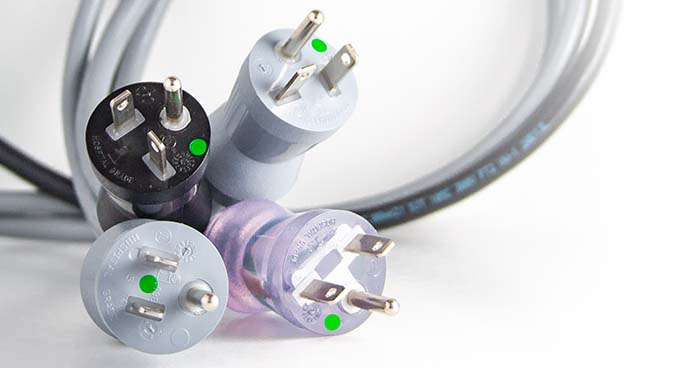 Whether it's delivering higher amperages and voltages to portable CT scanners and X-ray machines, or providing power to heart monitors, ECMO machines, or hospital-grade treadmills, Interpower NEMA 5-15, 5-20, 6-15, and 6-20 hospital-grade molded cord sets supply the correct power for a wide range of medical equipment.
NEMA 5-15, 5-20, 6-15, and 6-20 Hospital-grade cords and receptacles bear the green dot, signifying the cords have passed the UL 817 Abrupt Removal Test (UL 817, 18.2.4.1) and C22.2 No. 21-14 requirements for Hospital-grade power cords and cord sets.
In North America, Hospital-grade plugs and cords require a green dot per the UL 817 requirement: "27.1 An attachment plug and connector shall be marked 'Hospital Grade' and with a green dot. One or both markings on the face of the plug shall be permitted. The marking 'Hospital Grade' shall also be permitted on other external surfaces of the plug and connector." The hospital-grade plug diameter conforms to NEMA WD-6 standards.
5-15
5-20
6-15
6-20
Tested Tough
All Interpower cords and components are manufactured in accordance with Interpower's product quality plan: hipot testing, continuity testing, ground testing, and inspections after each process.
The UL 817 Abrupt Removal Test provides a real-world analog of how hospital-grade cords fare—especially the plugs—having been abruptly disconnected from outlets in medical facility settings. The test starts with a plug which is plugged into a socket. The wire from the hospital-grade plug is attached to a 10-lb weight which is then dropped to abruptly disconnect plug and socket to see how far the blades have bent, and to see if the wires have lost electrical continuity.
"We test more than is required by the standards for our own benefit as well," Interpower Product Development Manager Ron Barnett says. "We go beyond the standards because it lends better reliability to our design—products become more reliable in that regard."
"Most of our products are manufactured at one of our locations here in Iowa," said Mike Boyle, Vice-president of Manufacturing & Logistics at Interpower. "We offer Same Day Shipping if the cord set or component is in stock. Customers shouldn't have to wait weeks or months to get electrical cords, cord sets and components."
Interpower offers Same Day Shipping on in-stock hospital-grade cords. Our molded cords and cord sets are made in Lamoni and Oskaloosa, Iowa. Unlike cords produced in Asia where they may sit on a seaport dock for weeks or even months, Interpower cords ship straight from America's heartland.
Topics: Hospital-Grade Products, hospital-grade cords, medical requirements