The Value of a Socket Strip
Posted on 9/24/18 3:32 PM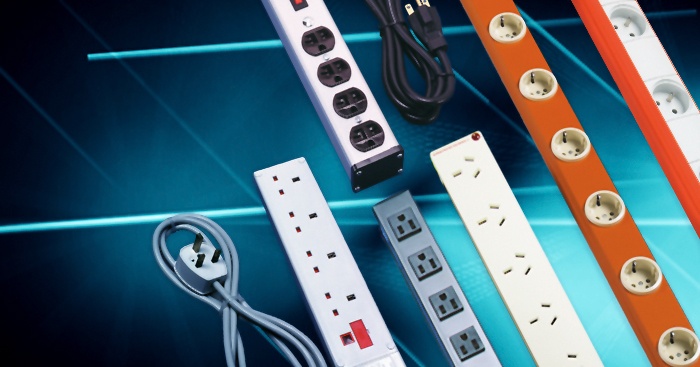 A simple definition of a socket strip: meeting power requirements with minimal connections. The value of a socket strip: giving flexibility in a product design with limited power source access.
When only a single power source is available, but there are multiple pieces of equipment needing that power source, a socket strip can assist in meeting that need. A socket strip can distribute electrical power through multiple sockets by being attached to a flexible cable and plugging into a single electrical power source through a country-specific input cord.
Primary Components
A socket strip has several primary components that guide and control the power. These include: power entry, control, protection, and distribution.
Power Entry
Electrical power enters the socket strip through a country-specific input power cord.
Control
Electrical current flowing into a socket strip requires power control, which comes in the form of a switch.
The power switch powers the entire system on or off.
Protection
The overcurrent protector helps to limit the amount of current in the entire system which helps to protect the equipment from drawing too much current and causing a fire hazard.
Distribution
The distribution of power comes through country-specific sockets, according to where the socket strip will be used.
Ratings and Standards
When designing a socket strip, a critical factor is determining what the rating needs to be, based on the application and the end use country's product safety standards. Ratings are listed in voltage and amperage. A key point to note: a rating on a socket strip covers the whole socket strip, not just individual components.
There is no single standard governing the design of socket strips. Country-specific socket strips typically have approval on the unit given by the product safety agencies in the country in which it will be used. Application and approvals may differ between countries because of various standards.
Additional Resources
Part of the focus at Interpower is to make it easy to design, build, and maintain products for global markets. Because there are different standards and requirements around the world, Interpower offers a variety of country-specific socket strips available for the following countries/regions: Australia, Continental Europe, France/Belgium, North America, and the United Kingdom.
For more information, see Interpower's product line of country-specific socket strips. See also the socket strips highlighted on the Featured Product page.
Interpower offers free technical support. For further assistance, please see Interpower's contact information below:
Topics: designing for export, country specific socket strips, socket strips